What Is The "Windrush" Scandal?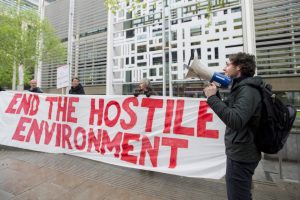 We are seeing all over the news recently that "children" of the "Windrush" scandal generation are being threatened with the possibility of liability to administrative removal from the UK by the Home Office on the premise they do not have leave to remain in the UK. They are being denied access to the NHS as well as losing their jobs and potentially accommodation and even bank accounts. There are currently numerous persons who arrived from the West Indies in the period 1948 to 1971.
What is lamentable is that the current government appear to be putting weight on the lack of technical leave to remain documentation being demonstrated to have been held by members of the Windrush generation without choosing to exercise the use of discretion in favour of granting them indefinite leave to remain. The Home Office could choose instead a policy of amnesty which does not appear forthcoming.
It is possible to make an application demonstrating to the Home Office's satisfaction that the applicant has been present in the UK before 1st January 1973 without any two year period of absence. One of the difficulties however is actually evidencing the same particularly for demonstrating pre-1973 entry to the UK as the Home Office have not kept older records. Many applicant were granted indefinite leave to remain a long time ago but did not apply for British passports.
We at Vestra Lawyers can help. Whatever your circumstances feel free to contact us by telephone or email to discuss your matter.
Nothing in this article constitutes legal advice or gives rise to a lawyer/client relationship. Specialist legal advice should be taken in relation to specific circumstances. The contents of this article are for general information purposes only. Whilst we endeavour to ensure that the information in this article is correct, no warranty, express or implied, is given as to its accuracy and we do not accept any liability for error or omission. We shall not be liable for any damage (including, without limitation, damage for loss of business or loss of profits) arising in contract, tort or otherwise from the use of, or inability to use, this article or any information contained in it, or from any action or decision taken as a result of reading this article."